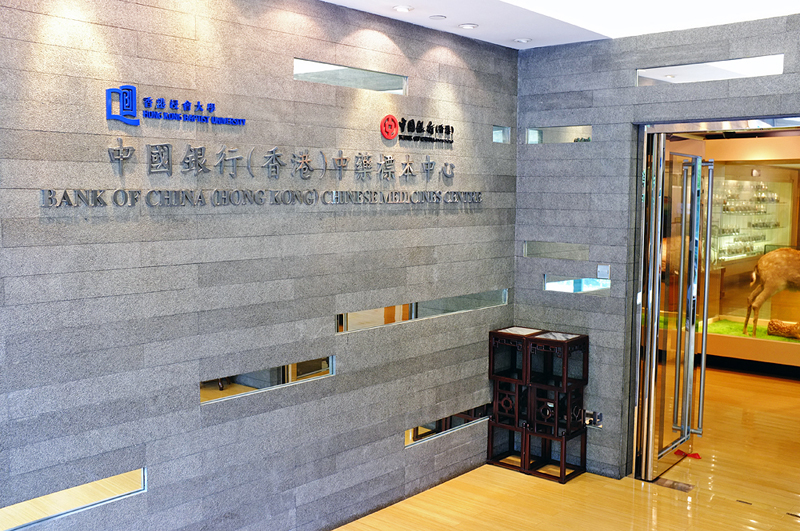 The Bank of China (Hong Kong) Chinese Medicines Centre was established in October 2003. It is by far the only specialized and professional exhibition centre showing a treasure of precious and rare Chinese medicines in Hong Kong. With its uniqueness, it forms a vital part of the Dr. & Mrs. Hung Hin Shiu Museum of Chinese Medicine.
In response to the University's campaign to "Collect from all the corners of the world treasures of Chinese traditions", Bank of China (Hong Kong) generously supported the establishment of the Chinese Medicine Centre at HKBU. Besides, the School of Chinese Medicine, HKBU, was greatly encouraged by the enthusiastic response from people of all quarters, some donated rare and precious species of Chinese medicines to the Centre, and some lent their treasured items for display.
The Centre displayed items include commonly used Chinese medicines, herbal Chinese medicines originated in Hong Kong, animal-originated medicines, easily confused species of Chinese material medica (CMM), voucher specimens, etc.
The Centre has a collection of the commonly used CMM and proprietary Chinese medicines in Hong Kong, including those prescribed under the Hong Kong Standards of CMM, as well as the various toxic and poisonous species. It also displays the unique features of the CMM in Hong Kong, and the methods of differentiation between genuine and fake items.
Another unique feature of the Centre is that it is enriched by a collection of over 3,000 voucher specimens which are stored in a temperature & humidity-controlled room in the Centre.
While being a window through which the wisdom and beauty of Chinese Medicine is to be displayed to be the world, the Centre is also a bridge whereby Chinese Medicine can reach out to the world.
The Centre is the result of a concerted effort among teachers and students of the School of Chinese Medicine, HKBU, leaders of the Chinese medicines industry, and experts and professional in the relevant field from the Hospital Authority. It will certainly play a key role in the teaching, research, and regulation of Chinese medicines in Hong Kong. The Centre will ultimately be of service to the people and society of Hong Kong.
In the course of preparation for the establishment of the Centre, seasoned scholars and renowned experts in the field of Chinese Medicines worked closely together with students and teachers of the School. Some of the CMM specimens were actually hand-picked by them in Emei Shan in the Sichuan Province and Changbai Shan in the Northeastern part of China.
The Bank of China (Hong Kong) Chinese Medicines Centre has the collection of a variety of precious and unique CMM from all corners of the world; it is also an epitome of the amazing and wonderful world of Chinese medicines.